Micro ATMs, as the name implies are mini version of an ATMs. It is used by a BC (Business Correspondents) to connect to their bank, authenticate customers and perform transactions. By this handheld device customers get faster service.
Customer can access bank account through a Micro ATM using any of following Authentication Methods and perform hassle free transactions
» Card + PIN
Gayatri Bank Mirco ATM presently supports following services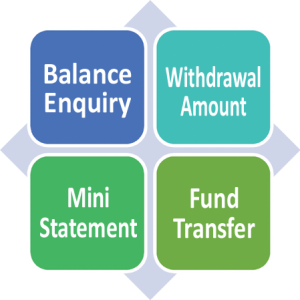 »  Withdraw Cash by using your Debit/Credit Card issued by any Bank, at Branch specified Counter subject to your Card limitations.
» Enquire your Account Balance
» Get Mini Statement of your account
» Transfer of funds between own accounts & other account holders
Note:
1) Gayatri Bank Customers Can perform Balance Enquiry, Mini Statement, Withdrawal Amount and Funds Transfer.
2) Other Bank Customers can perform only Withdrawal Amount.
What are you looking for?